What is Software Assurance?
1) Software Assurance
New Product Versions – Provides new software version releases so you have access to the latest technology. Every license covered under Software Assurance may be upgraded to the newest version.
Step-Up Licensing Availability – Enables you to migrate your software from a lower-level edition to a higher-level edition, such as Office Standard to Office Professional Plus, at a low cost. To get a Step-up license, you need a license for the qualifying, lower-level product. For current details, refer to the Microsoft Product List at
http://www.microsoft.com/licensing/productlist
Microsoft Desktop Optimization Pack (MDOP) – Provides a set of innovative technologies including application virtualization, asset management, policy control, and diagnostics and recovery tools.  You may subscribe to MDOP when you have active Software Assurance coverage on eligible system products.
Windows Enterprise Edition – Helps organizations increase desktop productivity by enabling standardization, improved security features, and multi-language support.  For every Windows license covered under Software Assurance, you are eligible for one Windows Enterprise Edition license.
2) Deployment
Planning Services – Provides structured planning services from Microsoft partners to enable efficient deployments of Microsoft application, system and server products, and cloud services. You receive a number of Planning Services days based on the number of qualifying Office Application, CAL Suite and Server products with Software Assurance coverage.
License Mobility through Software Assurance – Enables you to deploy certain server application licenses on-premises or in the cloud by assigning your existing licenses to an authorized service provider's server farm. You may utilize License Mobility when you carry Software Assurance on eligible server application products.
Windows Virtual Desktop Access – Allows a licensed device to access virtual desktop infrastructure and allows the single, primary user to remotely access their desktop from third-party devices such as home or contractor-owned PCs. You may utilize Windows Virtual Access Use Rights when you carry Software Assurance for Windows on qualified devices.
Windows Thin PC – Helps you to lower the end point cost for VDI by providing an enterprise ready platform to repurpose existing PCs as thin clients. You may utilize Windows Thin PC when you carry Software Assurance for Windows on qualified devices.
Office Roaming Use Rights – Allows the primary user of a licensed device to remotely access Office, Project, and/or Visio via a virtual environment from a third-party device such as a home or contractor-owned PC. You may utilize roaming use rights when you carry Software Assurance for Office, Project, and/or Visio on qualified devices.
TechNet Benefits through
TechNet Benefits through Software Assurance – Gives IT staff access to experts, technical information, plus beta and final versions of products for testing and evaluation.
For each eligible server product with Software Assurance one person within your organization gains access to TechNet's Online Concierge Chat and Managed Forums. You also receive a single complimentary subscription to TechNet Professional Subscription.
Microsoft Office Multi-Language Pack – Enables IT to deploy a single Office image with support for 37 languages. You may use the latest version of the Office Multi-Language Pack for the Office system products you have with Software Assurance.
3) Training
Training Vouchers – Provides in-depth technical classroom training for IT professionals and developers.
You receive a number of Training Days based on the number of qualifying Office and/or Windows licenses covered with Software Assurance.
E-Learning – Offers self-paced interactive training designed for end-users and IT professionals, delivered via Internet
or Intranet. For every qualifying license (such as Office Word or Windows OS) covered by Software Assurance, one person in your organization may
access E-Learning courses for that product.
Home Use Program – Provides employees with the latest version of Microsoft Office for their home computer, via low
cost download. For each Office Application you have covered with Software Assurance, a user of the licensed PC or device may acquire at a low cost one
copy of that product for use at home.
4) Support
24×7 Problem Resolution Support – Provides around-the-clock phone and web incident support for Microsoft server and desktop products.
Except for Open License Program, when you have at least one server license covered with SA you get one complimentary phone support incident, plus unlimited web support for eligible server products covered with SA. You are also eligible for an additional phone support incident for every US$200K spent on system and application SA, and for every US$20K spent on server and Client Access License SA.
System Center Advisor – Helps organizations assess their server configurations to proactively avoid problems, reduce downtime, and improve performance.
You may utilize System Center Advisor when you carry Software Assurance on qualifying server products for which System Center Advisor provides support.
Extended Hotfix Support – Provides specific product fixes on a per customer incident basis, beyond the standard product support.
While annual fees normally charged as part of an Extended Support agreement are waived, to receive this benefit you must have SA coverage for the related product pool and a Premier Support Agreement in place.
5) Specialized
Cold Backups for Disaster Recovery – Provides licensing for servers used as offline ("cold") backups for disaster recovery purposes.
For each qualifying server license you have with Software Assurance and related CALs, you may run one instance of the software on a "cold" server for disaster recovery purposes.
Enterprise Source Licensing Program – Provides access to Microsoft Windows source code for internal development and support.
To receive this benefit you must have SA coverage for all of your purchases under the systems product pool and have at least 1,500 desktops covered with SA.
Spread Payments – Payment for license and Software Assurance may be spread across three equal, annual sums.
Available on all Volume Licensing programs, except Open License.
Download Microsoft Office Volume Open Licensing Program (OLP) with Software Assurance (SA) Benefits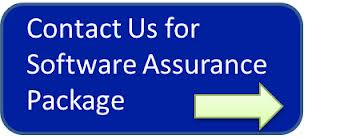 Do contact us below to find out how can Software Assurance help in your business.
---